Hermitage Veterinary Hospital Dog Walk Club
Thanks for joining the Dog Walk Club 2019!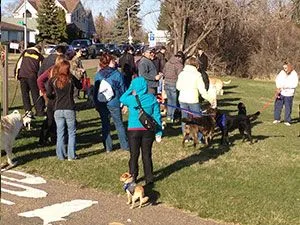 ---
Dr. Ted Purcell is shown here with Dr. Margie Scherk. Dr. Scherk is Board Certified in Feline Practice. She visited Hermitage Veterinary Hospital on April 17, 2018. At the time of her visit she delivered a presentation on new ideas in the treatment of Chronic Kidney Disease in cats. Dr. Purcell and Dr. Scherk were former classmates at the Ontario Veterinary College. We would like to express a big thank you to Dr. Scherk for coming to educate our team.
---
Watch Dr. Purcell on Global Edmonton
Dr. Purcell visits Global Edmonton on behalf of the Edmonton Humane Society every Wednesday morning at 8:48 am. Please tune in!
---

Dr. Purcell Receives ABVMA Award
Communications Award - Dr. Ted Purcell
It is with great honour to present the Communications Award to Dr. Ted Purcell. Dr. Purcell graduated from the Ontario Veterinary College in 1982. Upon graduation he started at the Hermitage Veterinary Hospital where he has been since then. He has helped the practice grow from a small 2 vet practice to a large 8 vet practice and I've had the privilege of working with him for 20 of those years
When I was a new graduate he was always there to mentor me. He helped teach me how to communicate with clients, how to deal with difficult clients and was always there to help when my communications failed. Over the last 20 years I have seen his patience with all of the staff from volunteers to vets. He is a firm believer in the veterinary team and cares about the lives of every staff member.
His dedication to clients is amazing. He takes the time to know all his clients on a personal basis and develops a bond with both the client and pet. He takes the time to ensure that every question they have is answered both in an appointment and and on any follow up calls (which has resulted in many late nights). His clients are very loyal and will wait weeks to see Dr. Ted.
He has promoted the veterinary profession through the media as the host on "Calling All Pets" and as the Pet Ambassador for The Edmonton Humane Society on Global TV on Wednesdays for years. TV, radio and news reporters all look to him as a valuable and reliable source of information. He is recognized in the community as a promotor of veterinary medicine.
He is a huge believer in community involvement. He has gone to many career days and reading week events at local schools promoting the veterinary profession to children of all ages. He has coached many basketball teams. He has served on a Medical Ethics board. He is an Investigator for the ABVMA. He has been on the board of the Glenrose Foundation including serving a term as its chair. Education and participation are two of his core values.
His dedication to and promotion of veterinary medicine deserves to be recognized. His ability to communicate with staff, clients, colleagues and the community are the reason he is so successful. Please join me in congratulating Dr. Purcell on this well deserved award.
-Dr. Kim Romanufa