On behalf of the staff at Hermitage Veterinary Hospital, we are honored to pay respect to our beloved animal friends who have passed. We also welcome you to create a lasting tribute for your beloved pet or animal friend on our website's Pet Memorial page. Please feel free to complete the following Pet Memorial Form in Adobe Acrobat format, which requires the free Acrobat Reader to view.
Download & Print Questionnaire
Cremation Options
Here at Hermitage Veterinary Hospital, we have partnered with Part of the Family Pet Memorial Centre to bring you various cremation product options that will help take care of your pet after making that difficult decision. Give us a call to speak to one of our Pet Care Specialists at (780) 476-7558 if you have any questions or would like to set up cremation.
All clients will receive a call for pick up at Hermitage Veterinary Hospital after your pet has been returned (for all private cremations). Part of the Family also offers client delivery (extra charges apply).
View our Online Cremation Catalogue
Pet Loss Planning Suggestions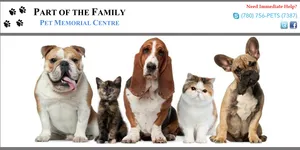 If you have any questions about your pets health, end of life planning questions or private cremation options, please feel free to call and discuss planning with one of our trained Pet Care Specialists to inquire further.

At Hermitage Veterinary Hospital we have a variety of keepsake items to explore. Our cremation partner, Part of the Family, provides a variety of options including grief counselling services, burial options, pet celebrations and more.