Hermitage Veterinary Hospital Reviews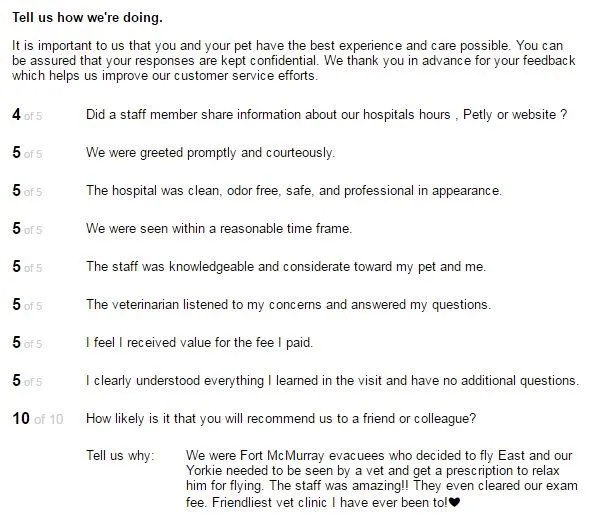 ---
---
---
---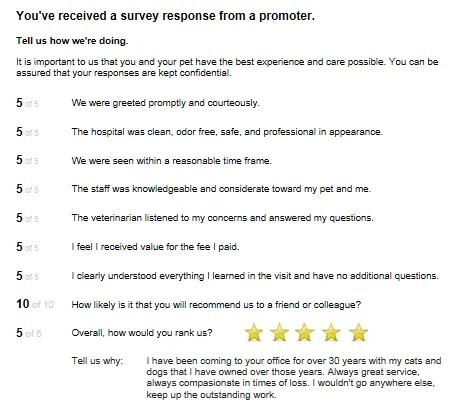 Hermitage Veterinary Hospital wasn't my usual vet, but their hours are great, so when a crisis arose with one of my cats, my previous vet told me to try there. I was more than happy with how they took care of my Klaus and even followed up to see how things were going. They are now my first choice and will be going there for all future vet visits. Was a great experience and priced reasonably too! Found on yelp.ca
---
I'm so glad someone else loves this place, too! My husband has been taking his animals here for 35 years and when I married into the family, I started bringing our pets here, too.
They take the time to get to know you and your pet! We have 4 cats - 3 with special needs that are rescue cats that require special diets and medication.
Dr. Romanufa and Dr. Purcell are phenomenal cat whisperers and have helped us through many problems when many others told us to give up!
Last year we made the tough decision to put down one of our cats - and while the whole process of paying to have your cat put down was painful they really did some touching things in the months that followed to help! The place we had the ashes spread (advertised through the vet) is a farm just outside the city with acres and acres of trees and hills so you know your animal is resting in a place they would have loved to run through! After the passing of our cat, we received a card from all the staff and a packet of seeds to plant in memory of our pet. At Christmas we received a card signed from all the staff letting us know our pet wasn't forgotten and that a special ornament with our cat's name was put on the tree for all to see and that we could come and pick it up anytime or they could put it up year after year on their trees. It's these little things that really helped us through this difficult time. Now we live across the city and still make the 45 minute trek to visit Hermitage Vet! Found on yelp.ca
---
We have taken our cats here for 5 years. The doctors provide the best of care, without trying to "sell" us on extra services or procedures like other vet clinics have.
---
I will only ever take my pet to Hermitage. You people who have had a bad experience is probably because you don't listen. I have gone as a walk in and yes you have to wait and pay and extra $25 fee but that is worth it. A nothing thing you think they are money hungry but I think people are the money hungry or cheap ass's that don't want to pay, if you ever had to pay for your hospital bill then a vet bill would seem like nothing. DONT GET A ANIMAL IF YOU DONT WANT TO PAY FOR THEM. Hermitage was great friendly and helpful. Anyone can misdiagnose, if this happened at Hermitage it can happen anywhere. Remember everyone has bad days, yes even you. I recommend them to everyone and there is NO WAY they would not give you a choice to treat even if it costs you thousands. they went to school not you, having to put a pet down can be the hardest thing and may the doctor recc that the pet be put down but if they did it is what is best for the animal and by law All strays are to be reported. :D (Rating 5/5) reported on http://www.vetratingz.com/ratings/2212/Veterinary+Clinic+Hermitage+Veterinary+Hospital.html

I've been taking my 2 cats to the Hermitage Vets for 5 years now and no matter which vet. I have seen, I have always been satisfied. They were very good at NOT charging me full visit price a number of times. Disagree that they are "in it for the $$"!!(Rating 5/5) reported on http://www.vetratingz.com/ratings/2212/Veterinary+Clinic+Hermitage+Veterinary+Hospital.html

This vet clinic is the primary facility I take my hedgehogs to. They have been for the past two years, and they will continue to be. The staff is extremely caring and passionate about the animals they treat, and will do the most they can. They are honest, and are not in it for just the money. If they feel a procedure is unnecessary or will not help the situation, they advise you of the fact, instead of performing it and charging you. I can not speak for any other clients, but this clinic seems more interested in helping the animal than the money -- they have never charged me full price for a visit, and routinely give discounts if the exam costs over $100. I highly recommend this vet to anyone with small exotic animals. They may not be the most experienced exotic vet, but they do their best, and they do it well. The services are moderately priced, and the staff are punctual; if you have an appointment at 10am, you will be in the exam room by 10:10am at the latest.

Registered users can respond publicly to this rating (Rating 5/5) reported on http://www.vetratingz.com/ratings/2212/Veterinary+Clinic+Hermitage+Veterinary+Hospital.html

Submit your Petsimonial
Please feel free to share your comments, feedback or Petsimonial by emailing them to [email protected]
Your feedback counts!
We value our client's experience at Hermitage Veterinary Hospital. If your pet or animal is currently a patient, please feel free to complete the following Client Experience Questionnaire. The Questionnaire is in Adobe Acrobat format, and requires the free Acrobat Reader to view.